Harbour Island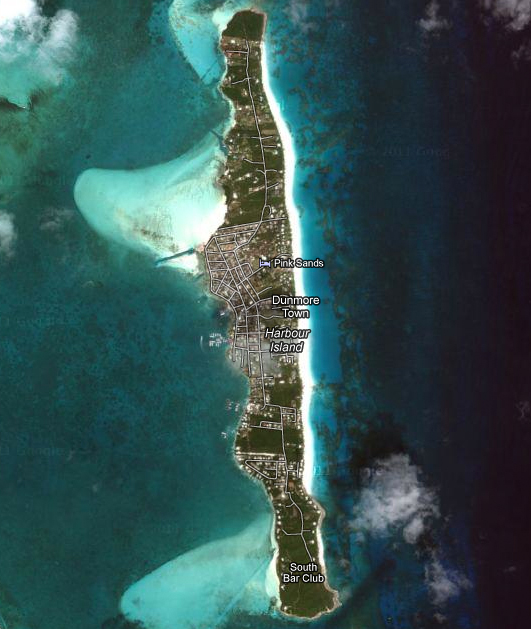 Rated as one of the "Best Bahamas Beaches" by the likes of Fodors, Frommers, The Travel Channel and Broen & Kristin, Harbour Island Bahamas is famous for its three and a half miles of hard packed picture perfect pink sand beaches. Warm clear ocean waters provide excellent diving, fishing and boating while outlying reefs provide safe swimming and snorkeling. The people are friendly and the island is easy to navigate. Golf cart rentals, the transportation of choice, makes touring the island both fun and relaxing.
If you are looking for some of the best restaurants the Bahamas has to offer, Harbour Island is the place to be. Choices are plentiful and menus range from fine cuisine at The Rock House and The Garden Terrace at Pink Sands to delicious local fare at Ma Ruby's. Most offer a casual Bahamian atmosphere and unforgettable views of the island and its tropical surroundings. Bring a big appetite with you!
Accommodations vary from fine resorts and hotels to charming vacation home rentals, houses, villas and cottages. Many of these are located directly on Harbour Island's beach offering breathtaking views of the ocean while others are located in and around Dunmore Town on the tranquil side of the ocean or in the interior of the island. No matter where you stay, you are always minutes from the beach.
The weather on Harbor Island is exceptional. Average high temperatures are in the mid 70s and 80s and lows are in the mid 60s and 70s. Monthly rainfall in prime season is less than 4". Ocean breezes keep you comfortable both day and night.
"Briland", as it's known by the locals, offers an attractive combination of amenities not found anywhere else in the Bahamas. A splendorous place where one can wake up in the morning with nothing to do and only be half done by the end of the day.